Kids Martial Arts Classes in Verona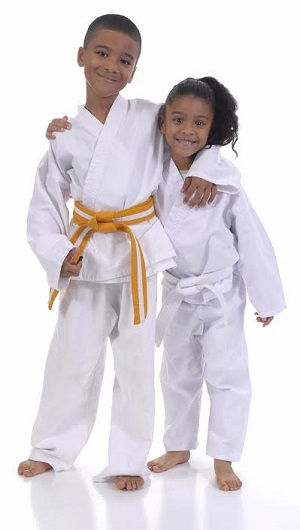 Most parents insist on the best for their kids...and when it comes to selecting extracurricular activities, there's no better choice than the Kids Martial Arts classes at Black Belt America!
We give kids an incredible opportunity to engage in fun physical fitness in a safe, supervised environment. Your kids are guaranteed to love our Kids Martial Arts classes because we make it fun to learn. As our black belt masters teach your kids all the classic karate moves that kids love—from kicking and blocking, to punching and striking—we'll be rewarding them with plenty of positive reinforcement every step of the way.
And while your kids are getting a great workout that they just can't get with any other physical activity, they'll be building rock-solid self-defense skills that will strengthen their self-confidence and prepare them for anything life throws their way.
MARTIAL ARTS PROVIDES COUNTLESS BENEFITS FOR KIDS!
At Black Belt America, we have a Kids Martial Arts class that's just right for the kids in your family, regardless of their age or fitness level. When you choose any of our Kids Martial Arts classes, you're giving your kids a huge advantage over their peers. That's because our instructors encourage your kids to set aggressive goals and reach for the stars!
As your kids learn the martial arts at Black Belt America, they'll enjoy a wide range of benefits that our classes have to offer. Just take a look:
Stronger muscles and cardiovascular function that leads to improved health
Superior coordination, flexibility, and balance
Improved listening and concentration skills that lead to better grades in school
Leadership skills that set your kids apart from the crowd
Anti-bully self-defense skills and techniques for handling peer pressure
Better behavior as your kids release their pent-up energy
A REWARDING EXPERIENCE FOR KIDS STARTING THIS MONTH
We often hear from excited parents who can't wait to tell us how the Kids Martial Arts classes at Black Belt America have positively impacted their kids' lives! We know you want to experience the same for your children. And, with new Kids Martial Arts classes starting this month, you won't have to wait!
To make it easier than ever for you to get your kids started, we've put together an incredible introductory, money-saving offer for you. You can find out all the details about this amazing special and lock in the low, limited-time rates today simply by completing the short contact form on this page. When you do, we'll send you everything you need to get your kids started on the adventure of their lives with the Kids Martial Arts classes at Black Belt America!
Kids Martial Arts Program Age Groups
From Age 3 To 4 (Little Ninjas)
From Age 5 To 7 (Little Champions)
From Age 8 To 12 (Basic Training)